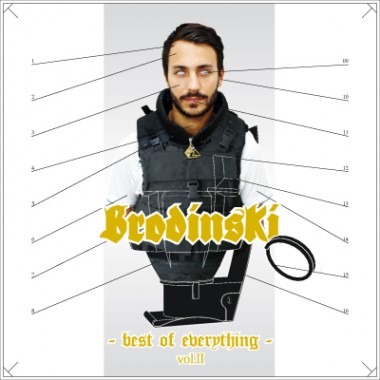 1. Aaliyah – Rock The Boat (Mawkus' Panty Dropper Blend)
2. Amérie – One Thing (French Fries Remix)
3. Filip Filipi feat. Shanell – Can you Rock (Nguzunuguzu Remix)
4. Lil Wayne – I'm Single (Renaissance Man Remix)
5. Big Sean – Bullshittin' (Tony Senghore Remix)
6. Soulja Boy – Pretty Boy Swag (Club Cheval remix)
7. Cassie – Me & U (Brenmar Remix)
8. Ciara – Ride (Wildlife Remix)
9. Lil Scrappy – Look At Me (Bok Bok Refix)
10. Young Dro, T.I. & Gucci Mane – Freeze Me (J-Wow Fast Lane Refix)
11. Party Boyz – Ha Ha Bitch (Manaré & Marvy Da Pimp Remix Feat. Spank Rock & Joke)
12. Drake – Over (Mikix The Cat remix)
13. Usher – Little Freak (Savage Skulls & Douster Remix) ft Marcus Price
14. Ciara – Deuces (Dubbel Dutch Remix)
15. Rihanna – Hard Ft Young Jeezy (Beataucue remix)
16. Young Money – Bedrock (Djedjotronic remix)
Brodinski hat mit Best of Everything Vol. 2 eine Compilation veröffentlicht, die Remixe von bekannten Mainstream Hip Hip/R&B Tracks beinhaltet – wobei ich irgendwie mit der Genre Zuordung so meine Probleme habe.
Als Remixer sind Bok Bok, Brenmar, Dubbel Dutch, French Fries, J-Wow, Nguzunguzu, Renaissance Man and Wildlife mit im Boot.
Bester Track ist der von Aaliyah, gefolgt von dem bereits vorgestellten French Fries Remix von Amerie's 'One Thing'.
BEST OF EVERYTHING vol.2 by BRODINSKI